Nile Cruise Holidays
A Nile cruise offers a mixture of breathtaking sights, sounds and culture combined with the ultimate in luxury accommodation and service. There's no better way to experience the wonders of this ancient land.
Savour the sights on a fully-guided itinerary
Every cruise includes an expertly guided itinerary which includes 10 FREE excursions. You will explore the major sights from Luxor and the magnificent city of Thebes and Valley of the Kings, on to the unusual double temple of Kom Ombo, before reaching Aswan and its spectacular High Dam, which is also the stepping off point for the ever popular optional excursion to Abu Simbel.
Luxury accommodation
The MS Grand Rose, flagship of the Grand Cruises fleet, is a modern custom-built floating hotel, equipped with the state-of-the-art facilities. All the cabins are exterior ones, so you have the best possible view on your journey through Egypt.
Scheduled flights with EgyptAir
Flights from London Heathrow to Luxor are operated by our scheduled airline partner EgyptAir, and include a generous baggage allowance, free in-flight meals, a comfortable seat pitch and personal seatback entertainment system.
Find out more
To find out more, check prices or to book, click on the links below, use the Search & Book box to the left (select the "Nile Cruises" tab) or give us a call. Please note: all cruises start on a Monday.

Explore our ships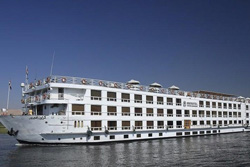 Full Board
Embark on a journey through 5,000 years of history aboard Iberotel's Jaz Cruises fleet. This fleet of custom-designed Nile Cruises ships offers every... more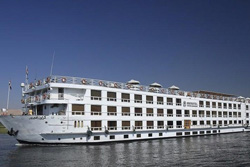 All Inclusive
Embark on a journey through 5,000 years of history aboard MS Iberotel Crown Emperor. This custom-designed ship offers every convenience and comfort... more



7 night Itinerary

What's included

✓ 10 Free Excursions
✓ 7 nights aboard ship
✓ All meals on board
✓ Local soft and alcoholic drinks
✓ All resort transfers
✓ Late checkout cabin
✓ Return flights from the UK to Egypt
✓ 23kg luggage per person



Fly from London Heathrow

Departures every Monday

100% ATOL Protected
We're here to help!
0207 332 2670


Mon-Fri 9am-5pm, Sat 9am-4.30pm