Luxor & the Nile
Our new Luxor & the Nile cruise and stay holiday combines the thrill of a week's Nile cruise through the heart of ancient Egypt, with the chance to stay in Luxor for a week, to explore more of its fascinating history and culture.
Savour the sights on a fully-guided itinerary
Your Nile cruise includes an expertly guided itinerary with 10 FREE excursions. You will explore the major sights, from Luxor and the magnificent city of Thebes and Valley of the Kings, on to the unusual double temple of Kom Ombo, and Edfu – one of the best preserved temples in Egypt – before reaching Aswan and its spectacular High Dam, the starting point for the return journey.
Explore Luxor
The "stay" part of your holiday offers a choice of high quality hotel accommodation in Luxor, often described as the world's greatest outdoor museum. You will be mesmerised by its beauty and inspired by its magnificent relics. Don't forget to enjoy the modern day culture too, in the many bazaars, cafes and restaurants.
Cruise and Stay
Each package includes 7 nights on board ship plus 7 nights at your chosen hotel. Flights to Luxor depart on a Monday, and you have the choice of joining the cruise immediately, with your hotel stay starting the following Monday OR spending your week in Luxor first, then joining the cruise the following Monday. Just let us know which you prefer at the time of booking.
Scheduled flights with EgyptAir
Flights from London Heathrow to Luxor are operated by our scheduled airline partner EgyptAir, and include a generous baggage allowance, free in-flight meals and comfortable seat pitch.
Find out more
To find out more, check prices or to book, click on the links below, use the Search & Book box to the left (select the "Cruise & Stay" tab) or give us a call.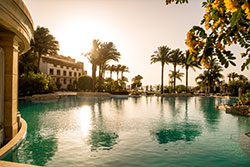 Full Board
Bed & Breakfast
All the excitement of a cruise through the heart of Egypt, plus a chance to explore more in Luxor. Our 14 night Cruise and Stay package includes a... more
Save up to £100 extra per booking*

*Selected dates.

What's included

✓ 7 nights Hotel
✓ 7 nights Nile cruise
✓ 10 Free Excursions
✓ All resort transfers
✓ Late checkout room
✓ Return flights from the UK to Egypt
✓ 23kg luggage per person



14 night package




Fly from London Heathrow




100% ATOL Protected